The Festival des Vins d'Aniane society wishes to put at the heart of Saturday's evening an auction sale of rare wines to the profit of La Montpellier reine, which purpose is to support women with breasts cancer. Eleven batches of 3 magnums freely given by the wine-makers will be bidden upon thanks to the talented Daniel Roche. Absolute collector objects, each one of those wood boxes have been personalized by 11 prestigious artists.
Download the brochure of the auction sale 2018
To live through the dinner and auction sale 2016 experience, clic below: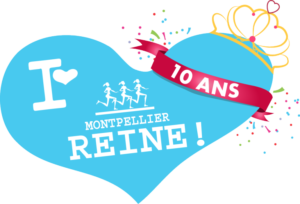 The Montpellier Reine's society
For its 21st edition, the Festival des vins d'Aniane will donate the profit of the auction sale to the Montpellier reine society.
The Montpellier reine society organize since 2009 a race of 4.5 km.
This familial event attracts more and more people each year and has become an unmissable event. The purpose is, not only to support women with breasts cancer, but also inform and raise awareness of as much woman as possible of the major importance of breasts cancer detection. Each year, there are more and more participants.
The raised donations are given to organization which fight for this cause. Each year, the organisations chosen change.